From Material Requirements Planning (MRP) to Enterprise Resource Planning (ERP)
Though the term enterprise resource planning (ERP) was originally coined by Gartner in 1990, its roots can be traced back to the 1960s – the beginning of commercial computing. Back then, software developers were building tools to calculate reorder points and economic order quantities, applying them to inventory management and control. The developers, of course, kept coding. So what's next in the history of ERP? Well, in the 1970s these tools evolved, becoming what large-scale manufacturers needed to manage material requirements planning. The tools were then aptly named MRP. By the 1980s, MRP tools had moved on to support plant capacity planning and then someone in marketing undoubtedly got involved because MRP became MRP II. Then in the 1990s Gartner broadened the MRP II concept to make it relevant to all enterprise companies, not just manufacturers, and introduced the term "enterprise resource planning" (ERP). This was an important time as enterprises, powered by the vastness of the internet, now had the opportunity to engage with suppliers and customers more closely through their ERP systems. This – of course – demanded a new name, so the marketers got involved and came up with ERP II… brilliant. That's just a brief history of ERP up until now.
ERP Today
With the early history of ERP out of the way, what is it now? Well, today Gartner describe ERP as:
"The ability to deliver an integrated suite of business applications. ERP tools share a common process and data model, covering broad and deep operational end-to-end processes, such as those found in finance, HR, distribution, manufacturing, service and the supply chain. ERP applications automate and support a range of administrative and operational business processes across multiple industries, including line of business, customer-facing, administrative and the asset management aspects of an enterprise. ERP deployments are complex and expensive endeavours, and some organisations struggle to define the business benefits. Look for business benefits in four areas: a catalyst for business innovation, a platform for business process efficiency, a vehicle for process standardisation, IT cost savings. Most enterprises focus on the last two areas, because they are the easiest to quantify; however, the first two areas often have the most significant impact on the enterprise."
Put more simply – ERP might be described as the adoption of best practice processes: entering data once, using it in all the right places across the business and making it visible to all.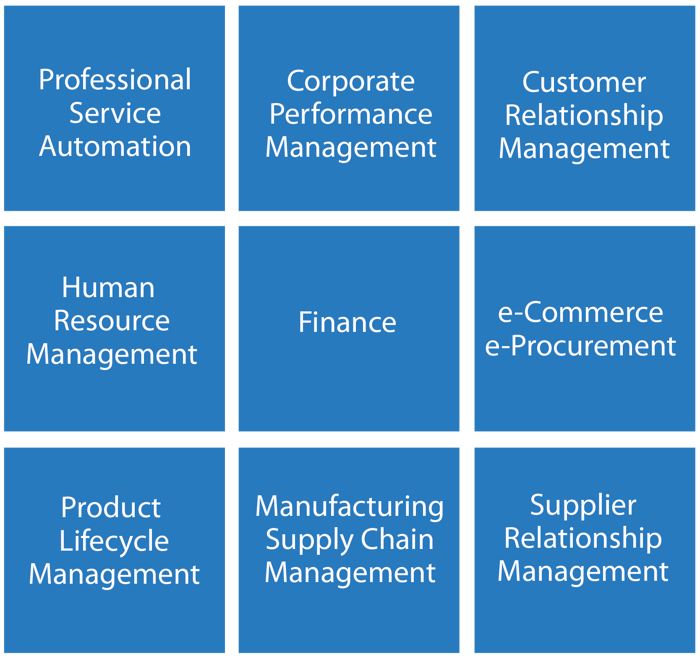 'Traditionally' this has been done by deploying a single application – like SAP R3 or Oracle – across an organisation, but as Gartner point out, this has often proved to be hard and expensive. The truth is that these products are tough to modify, and because every department wants to customise their processes, implementation takes a long time. As a result, before you get to the last department, the requirements in the first department have evolved, and the software author has issued a new release of the standard software. At this point the project plan becomes impossibly complex.
(If you want to find out more about ERP systems – including how we can help you with them, check out this page)
Mid-market organisations (companies with up to say 200 employees) are different. These organisations have never had the appetite or budgets to support multiyear, end-to-end projects: they need fast, flexible fixes to very practical business problems. Some business applications – like NAV (Navision) and SAP Business 1 – have served this mid-market ERP requirement better than others and built big, global customer bases as a result.
Cloud ERP Software
So back to the history of ERP. In or around 2010, 'cloud' computing transformed the ERP software market. It did this in two ways:
The list of ERP products that you might consider is now vastly different. Many existing vendors have struggled to migrate their software from on premise (Oracle, SAP R3, Infor) to cloud, while new cloud vendors have emerged (Workday, NetSuite, Xero).
Cloud changes the way in which companies can construct Enterprise Resource Planning solutions for their business. Rather than rely on a single application to deliver the integration between processes, departments and divisions, organisations can now look to cloud technology and tools to deliver the same.
Digital Transformation
Now we're up to date with the history of ERP. In 2020, you'll find the words 'Digital Transformation' in large text on many websites. The marketing people have been busy again! To explain the jargon, Digital Transformation is all about the extent to which Microsoft Azure, Amazon AWS, Microsoft's Power Platform or SalesForce's Lightning platform can deliver the benefits of ERP. This includes driving best practice processes, such as: entering data once, using it in all the right places across the business and making it visible to all in a way that's more flexible than any individual ERP application.

In the future, some larger organisations will continue to put their faith in a 'one app supports all' approach. Others will look to Microsoft or Salesforce to give them a platform upon which they can very tightly integrate their finance, manufacturing and supply chain solutions with HR, CRM, Marketing and a myriad of other 'small apps' to replace the Access, Excel and paper-based processes they currently use to solve other business issues.

To learn more about our thinking regarding the ERP market, check out our 'Alternative Guide to buying ERP'

To learn more about on our ERP implementations, read our case study on Sambro International.