Sarah is one of our NAV/BC Consultants and has been at TNP for 6 and a half years now. She first encountered NAV as an end user 16 years ago and turned her hand to consulting 14 years ago.
A bubbly and approachable person, Sarah's a great go-to for all things Dynamics NAV or Dynamics 365 Business Central!
What's your favourite thing about TNP?
Oh my goodness – definitely the people. We are as mad as a box of frogs, and I love it.
What's your favourite thing about Dynamics NAV?
To people who know me this will come as no surprise, but I love all the warehousing functionality in NAV. So many people are afraid of using it, because it looks complicated. But it's so versatile and can be used for so much. I geek out every time I go to a warehouse, I just love them. I miss them!
What hobbies do you have?
I really got into crocheting last year. I do loads now – blankets, toys, scarves, baby clothes… I can't be stopped. It's nice to have a hobby that gets me to put my screens down too, as we all naturally spend so much time on them at work.

I also like to get out on my bike when I can and explore the local area. I've done a lot of that this past year!
What are some of your proudest moments?
Outside of work, I'm so proud that I saved hard to buy a house. It's not easy nowadays, but I did it! At work however, I was over the moon to be chosen as a TNP fellow. It's an accolade that I'm really proud to have earned.
Do you have a fun fact for us?!
From the age of 14 I have been able to drive… a tractor!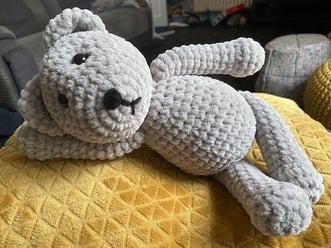 What's been your experience of development and progression opportunities at TNP?
The word that spring to mind here is nurture. Since joining TNP, my skills and abilities have been spotted and my potential realised. I had little confidence when I joined, particularly when offered a Lead Consultant role - I couldn't think of anything more daunting! But the opportunities were given to me in the right way and now I regularly lead projects. I can't fault the way TNP nurture potential and create natural, organic progression opportunities into people's areas of strength and skill. This is the case not only for professional development, but personal too!
Sarah's just one of over 200 invaluable members of staff we have here at TNP. There are so many reasons why people love working here, and why we love working with them. We believe in nurturing our staff and helping them grow and explore new opportunities. This happens in a number of ways, including through time spent on induction, training and progression opportunities. We also have some other perks, such as Friday lunches, games in the office, and a quirkier atmosphere than most other businesses! No wonder Sarah is full of joy!
If you like what you hear, take a look at our job vacancies!
Want to read more about our incredible people? See what makes us tick and why we consider ourselves the best Dynamics NAV Partner in the UK and Ireland.