The Portugal Story
At TNP we thrive off the dedication and knowledge of our staff. We are now a Dynamics 365 Business Central, Dynamics NAV, and Power Platform Support Partner of over 300 strong.
When our friend and colleague Jorge made the decision to move back to his home country Portugal in 2016, we didn't want to lose him. Shortly after, TNP Portugal was born – a separate entity to TNP in the UK. The aim was for Jorge to manage an office and build his own team. A few more UK-based Portuguese staff moved home too, and along with a couple of local recruits, they became a team of around seven for a few years before slowly increasing to eleven.
TNP Portugal primarily provide support and development services to our Dynamics NAV and Dynamics 365 Business Central customers remotely, and from their office near Porto. Then, when the Covid-19 Pandemic forced offices closed, Jorge realised they could expand their search for team members beyond the Porto area, to include consultants. There are now almost 30 highly skilled TNP Portugal employees!
Jorge is our Portugal Regional Manager, and Practice Lead for the Short Order team. He's been working in the NAV world for close to 14 years, with around 8 of those at TNP, and is fascinated by the evolution of the product since he first started.
What's your favourite thing about TNP?
The family feel here is something I never found anywhere else. I've been here a while now and have truly made friends for life. I feel like TNP value me as a member of staff. I'm surrounded by a great bunch of people. Even after being here so long, there's always someone I can turn to for help, and I know I can rely on new and old colleagues alike to help me.
What's your favourite thing about Dynamics NAV and Dynamics 365 Business Central?
It's so versatile. It can fill most requirements for most sized businesses. The technology has grown, can grow and will grow. It's impressive the way it has evolved to meet customer demand over the years. I also like how you can bolt things onto it – for a long time I was heavily involved with the Product Team at TNP, so I learnt how adaptive BC is to having things bolted on to enhance functionality.
How is it working for TNP from Portugal?
I have been with TNP since 2013 both from the UK and Portugal following a move home in late 2016. I felt very honoured when the TNP team expressed confidence in me to set up a TNP Portugal base. It's been great fun to continue working for TNP, with all the benefits of working for a Portuguese company. It feels like home in both a personal and professional sense – I spent a good few years at TNP in the UK before we moved back here.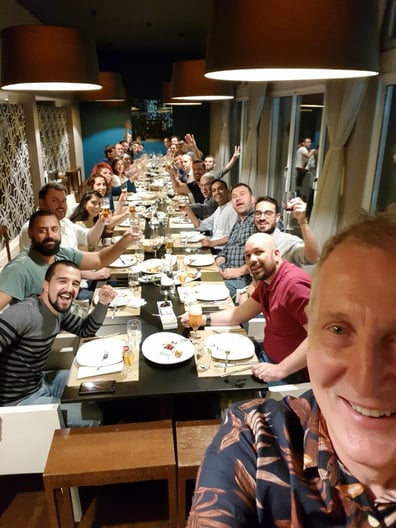 Our staff in Portugal really do have the best of both worlds, not least with the improved access to the sun! Mostly, the benefit comes from working for a well-established UK company with fantastic customers, whilst being employed locally.
Our Portuguese employees are employed at a Portuguese company, rather than as an overseas member of the UK business. Everyone is placed within the wider TNP team as needed, across all departments, so they are immersed in the wider company. The only real difference is that I act as Regional Manager to regularly touch base with the unique team based across the country.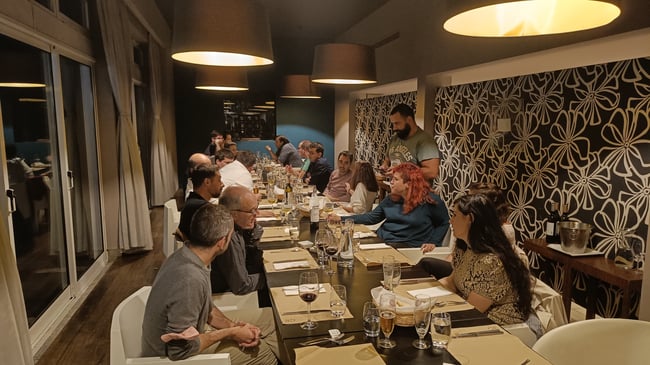 What do you like to do in your own time?
I enjoy playing football with friends, and, living so close to the sea, I like getting involved with watersports when I can. With my family, we like hiking together.
What is something you are really proud of?
I'm very proud of my two children and the people they are becoming. I'm also very proud of how I've developed the team here the last few years.
Do you have a book or TV show you'd recommend?
You'll often find me following the TV trends – I've recently started Squid Game on Netflix, which is very different! If I get time to read, I like books which are all about our minds and the way they work.
For TNP in general, having a team whose members have acquired skills globally is a fantastic asset. We've been able to undertake some global deployments and work thanks to the knowledge we have garnered through having such a diverse employee base.
As TNP grows, TNP Portugal will likely grow, and that's a prospect we are very excited about.
If you like what you hear, take a look at our job vacancies in the UK!
If you're based in Portugal, enquire about our advertised vacancies through emailing careers@thenavpeople.co.uk.
Want to read more about our incredible people? See what makes us tick and why we consider ourselves the best Partner around!