The most eagerly anticipated event of the year for The NAV | 365 People has been a huge success! Our Microsoft Dynamics NAV | 365 Business Central User Day 2018 has set a new record with more than 350 attendees being treated to an awe-inspiring day of technological wonders and an after-party that rocked the house. The theme of this year's exciting User Day may have been the fabulous 80s but on show was today's up-to-the-minute, innovative technology - something that may only have existed in futuristic science fiction back then. The stunning venue was buzzing with excited attendees from the moment they walked through the door in the morning until very late in the evening.
Focussing on 'What's new in Dynamics 365 Business Central' and 'What's new from The NAV | 365 People', the Keynote address was inspiring, funny and informative. Delivered by our Managing Director, Ian Humphries, and very ably supported by our Marketing & Sales Director, Matthew Dredge; Product Director, Paul Cartwright; and Presales Manager, Tom Bevan, the Keynote message was clear – Dynamics 365 Business Central is a remarkable software solution. One part of the Keynote in particular stole the show – a short video of children sharing the message in their own inimitable way - that Dynamics 365 Business Central is really just the latest edition of Dynamics NAV. Our Managing Director then declared to the packed auditorium: "Dynamics 365 Business Central is the best version of NAV … ever!"
The Keynote was very well-received and whetted everyone's appetite – not just for the delicious lunch awaiting them – but for the best ways to access the awesome new technology that's now part of Dynamics 365 Business Central.
In the very near future, we'll be publishing a video on this Blog page of the Keynote address and another, more detailed blog focused solely on what was covered. Watch this space …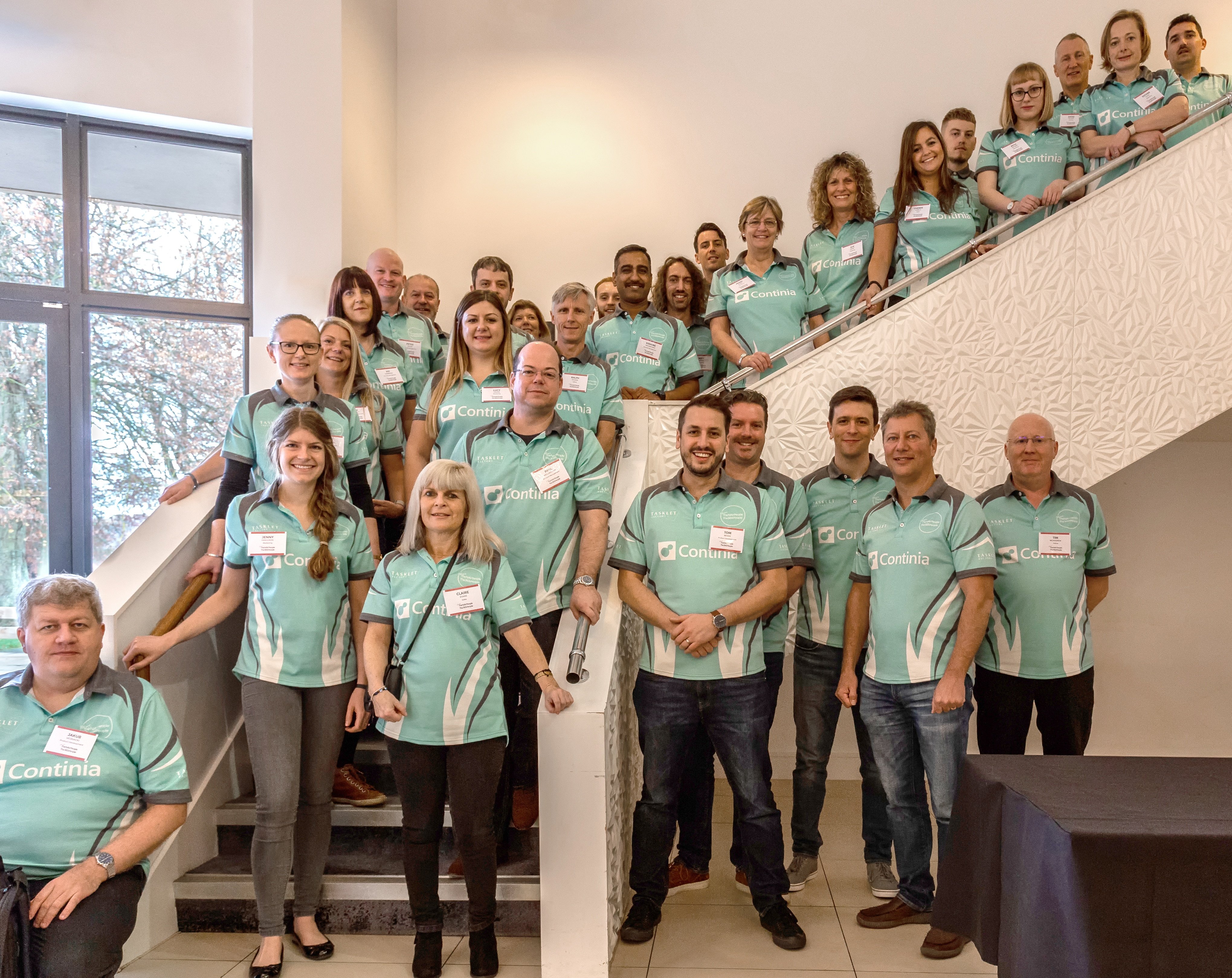 The NAV | 365 People User Day staff in all their finery ready to start the day!
Afternoon Sessions – the Old, the New and the Futuristic
When it came to the afternoon sessions, attendees were spoiled for choice with 20 different seminars on a multitude of topics related to Dynamics NAV or Dynamics 365 Business Central including talks about our innovative range of nHanced 365 modules such as nOra: the next generation of Artificial Intelligence and automation; and nHanced eComm.
To upgrade, or not to upgrade: that is the question
Our seminar on Upgrading hopefully answered that question when we looked at reasons why you shouldn't upgrade; when and why you should upgrade; what's best practice; what works and doesn't work; how you should phase an upgrade; and what you can do to avoid or postpone an upgrade. If you'd like to discuss this further, please feel free to contact us.
Making Tax Digital
We discussed how we can support you in being HMRC-compliant by April 2019 when it comes to making tax digital. When HMRC releases its next update in December, we'll be writing a blog here to keep you in the loop.
A Bridge to the Future
If you're not ready to upgrade to Dynamics 365 Business Central, the fantastic news is in-house we have developed the 365 Data Bridge to take your data from your version of Dynamics NAV and link it to Dynamics 365 Business Central. This will give you read-only access to many of the exciting new features of Dynamics 365 Business Central – which means you can create a myriad of reports, accessible from your mobile, web browser and tablet.
What our Partners had to say
Several of our wonderful Partners hosted seminars featuring some very clever and creative tools from Jet Global such as Jet Reports and Jet Budgeting. Our friends from Sana talked about their latest eCommerce options that will work alongside Dynamics 365 Business Central and Dynamics NAV; and from Anveo and MobileNAV they discussed the best ways of using mobile technology – even with systems as old as Classic Dynamics NAV!
What one of our Customers had to say
The Head of IT at Thatchers Cider, Ian Dorling, shared how they leveraged Dynamics NAV within their business with live and accurate data on-premise and on the road – making their system a superstar! You can also read their latest case study here.
Exhibitors – some of our Partners
Throughout the day, representatives of 15 of our Partner companies were on hand to enthusiastically answer any queries and to show examples of their latest innovative technology that tie in with Microsoft Dynamics. We also had stands with staff primed and ready to answer your questions on topics including Dynamics 365 Business Central, Classic Dynamics NAV, our nHancements, Licence and Pricing, and 'Ask Us Anything'.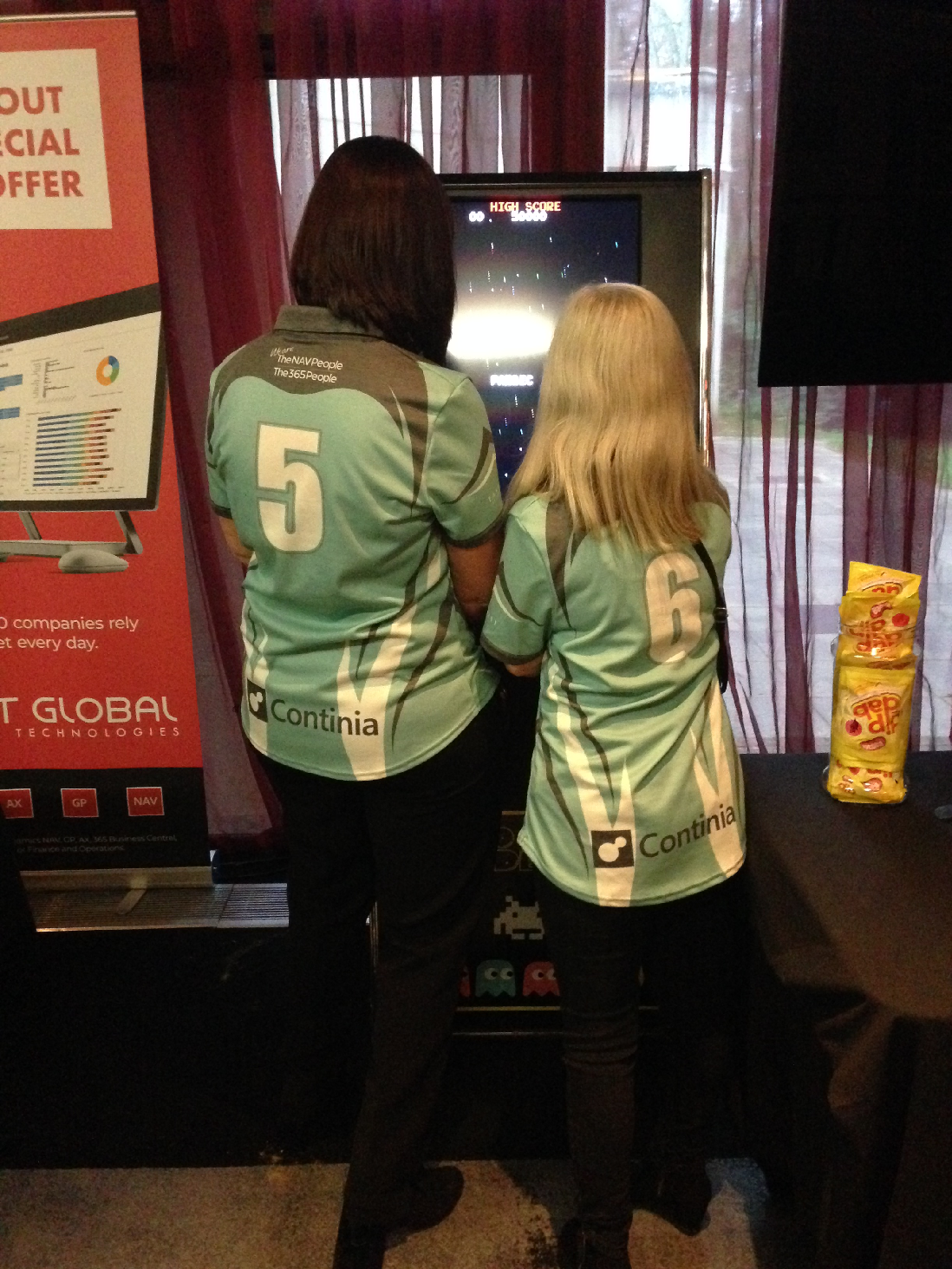 Account Managers Joy and Claire enjoying a blast from the past with Space Invaders!
After-Party
When the more serious part of the day was over, we all met in the auditorium for the 'Wrap Up' and were treated to many laughs thanks to award-winning musical comedian and maths communicator, Kyle D Evans, who then closed the show. Next stop was the bar, where the steady buzz of conversation between a great cross-section of friendly, inspired Dynamics NAV users, non-NAV users, customers, colleagues, Partners and our team continued as it had done since the doors first opened in the morning. A surprise visit from a very talented Fawlty Towers troupe kept us happily entertained as we wined and dined throughout the evening, happily mingling and relishing the delicious three-course meal. By now, people were ready to party. The band came on, playing hits from the 80s – well, it was an 80s-themed day this year which explains the random stands of Space Invaders, Galaxian and Pac-Man computer games which had people lining up to play. How far we've come with gaming technology! But for those of a certain age – lots of happy memories of playing them back in the day!
Our team from The NAV | 365 People were first on the dance floor and remained there, along with other dancing enthusiasts, until the band finally finished after midnight. During the show, some of the team joined the band and showcased their musical talents – wowing many of us! For those die-hard partygoers remaining, the final stop before bed (or should I say breakfast?) was another bar in the building … more music, fun and laughter … all very well-deserved after such a fantastic User Day 2018.
Thank You!
A huge 'Thank You' to everyone who came to this year's User Day to find out the latest innovations and news updates related to all things Microsoft Dynamics NAV and the truly amazing new Dynamics 365 Business Central. Thanks also to our dedicated Partners, to our team who worked tirelessly to put this fantastic event together and finally to all the staff at Heythrop Park Resort in Oxfordshire, for their wonderfully warm hospitality and care in helping to make this year's event the biggest and best yet.
Already we're looking forward to next year's User Day, when hopefully we'll break more records – and who knows what new innovations will be revealed then! After all, a year in technology is a long time …
If you have any questions, please feel free to get in touch with us and we'll help however we can.