At The NAV | 365 People, we aim to provide the absolute best standard of customer service. Here are just some of the ways that we go about it!
Account Management
Our Account Management Team ensures a regular flow of information and feedback between The NAV | 365 People and our customers, keeping you informed of developments in the Dynamics NAV and Dynamics 365 Business Central world. Your Account Manager will be primarily responsible for managing the relationship between you and us, including logging change requests, facilitating knowledge transfer relating to any solution or company changes, and ensuring that you are receiving the quality of service you expect.
We also have a dedicated member of the Account Management Team in the office at all times so if you're unable to reach your Account Manager, or if you have an urgent request, we can make sure your enquiry is dealt with in the quickest way possible. You can contact them at account.management@thenavpeople.co.uk.
Our Support Team
With a dedicated team of over 40 Support Staff, we have someone for every Dynamics NAV and Dynamics 365 Business Central eventuality and are able to support you every step of the way! All our team are experienced consultants who come to work each day with one purpose and that's to deliver a high quality, value for money service. Always at the end of the phone, they are more than happy to assist in any way they can, whether it's a systems issue, functional question, process advice or some training, our team are here to help.
When Can You Log a Call?
You can log a call during our standard hours of cover from our Help Desk which are 09:00 – 17:30 Monday to Friday. If it's out of hours then not a problem, you can call us on the usual number with prior arrangement. UK Bank Holidays and other UK National Holidays are excluded.
How to Log a Call
You can log a call in two ways, you can either email the Support Team at support@thenavpeople.co.uk or call us on + 44 (0) 208 328 9818 (in the UK). All our calls are logged and processed from our Newbury Head Office. Each time a call is logged, you will be given a call reference number for future reference. We ask all our customers to email the support address rather than individual consultants to ensure each call is logged and being processed efficiently.
Customer Portal
Our Customer Portal is designed to let you take control over your incidents. The Portal will let you log, review and update the tickets with full history available in a couple of clicks. To access the Customer Portal, navigate to www.thenavpeople.zendesk.com, and click on the 'Sign In' option in the top righthand corner. Select the 'Sign Up' option if you have not contacted TNP Support before, or the 'Get a Password' option if you have contacted us as your account will have been created. Should you require assistance, do not hesitate to contact the Support team by emailing support@thenavpeople.co.uk or contacting your Account Manager.
Standard Response Times
We use all reasonable efforts to meet the following targets in respect of the issues logged. In offering these timescales, we're not offering any guarantee or warranty that the issues will be resolved within this period of time – but we most definitely try! Minor mods and burst training sessions are outside of the standard SLA but we strive to deliver them as soon as possible.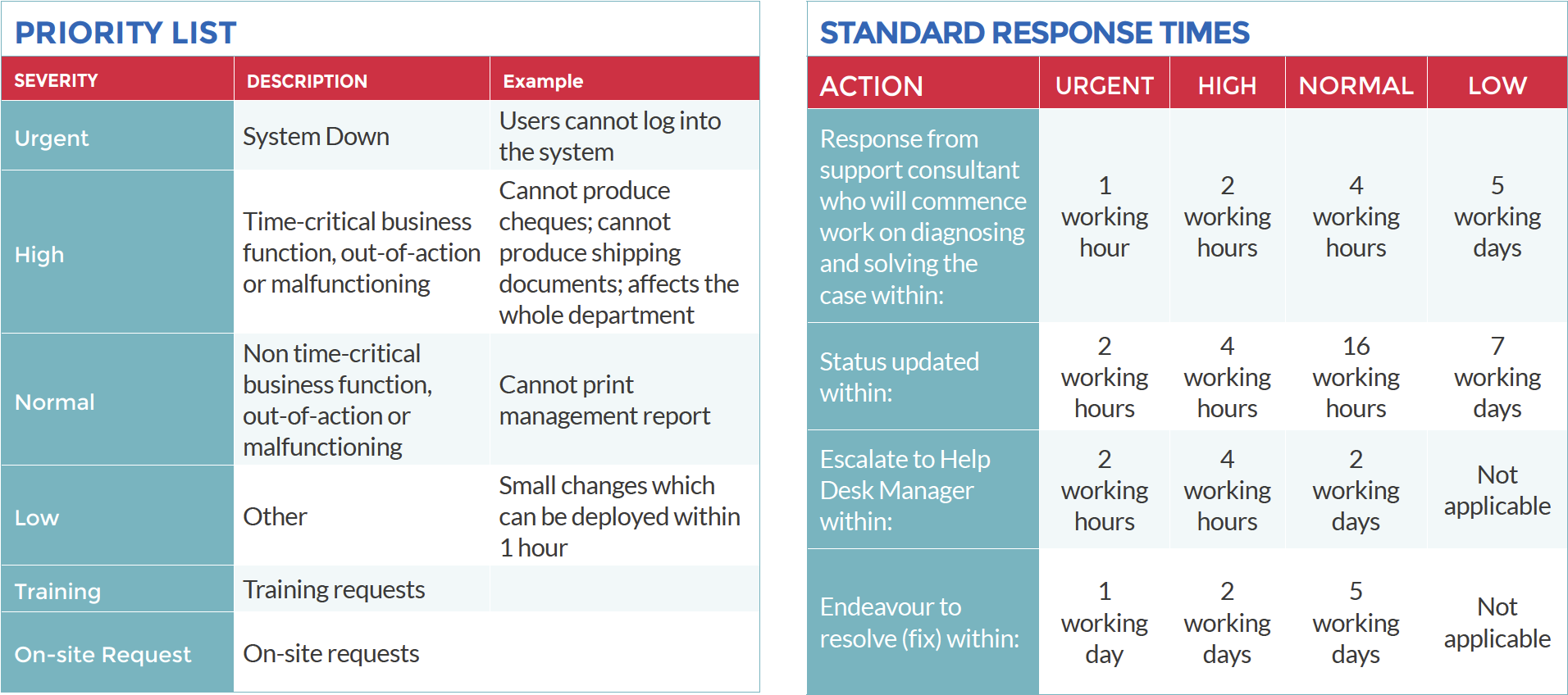 Requesting a Change
If you would like to make a request for any development changes, all you need to do is contact your Account Manager directly or the Account Management Team on account.management@thenavpeople.co.uk. They will discuss the required changes with you to get as much information as possible in order to estimate the effort required and provide you with a high level ball-park estimate. But don't forget, if your change is around or less than an hour, it's classed as a minor mod and we'll do it for free as quickly as we can.
Minor Mods Service
This is a service where we will make small changes (by which we mean those which take less than an hour) as part of your support contract. The kinds of things that we can offer as part of the minor mods service are:
Adding a field to a table and exposing it on a page/form
Making fields visible
Adding filters on a report
The whole process of a minor mod, including scoping, development and deployment, should fit within a 1-hour period.
The Polisher
One thing we have noticed as the Role Centre technology has evolved is that it's often not used to full potential, which is a shame, because it has some incredibly powerful tools available to users, that will make their working life that little bit easier.
To help you get the most from your system, our Polisher can work with your users to make sure they are getting the most from the Role Centre and the tools available to them. Depending on your version, the Polisher will be able to help in different ways. For example, with pre-Business Central versions we aren't able to build new queues (it's a development job), but we can offer you our Panels and Tiles add-on for free (plus a little bit of chargeable time to install them), which will open up a world of even greater Role Centre flexibility for your business.
For those on Business Central, you also get Panels and Tiles for free and with no consultancy charge (as extensions are so quick and easy to implement).
So whether it's showing users how to create their own menus and shortcuts or configuring Role Centres with our Panels and Tiles, the Polisher is just the person for you.
To book your appointment just ask your Account Manager or email account.management@ thenavpeople.co.uk.
SQL Nurse
For customers on a support contract the SQL Nurse will perform a free remote 10 Point SQL Health Check, plus diagnosis of problem form/page performance. You can trust her to get your system working smoothly again! Contact your Account Manager to arrange your SQL Health Check: account.management@thenavpeople.co.uk.
Training Days
We see training as a logical extension of our support policy. The better users are able to take advantage of their system and its full range of options, the more likely we are to have happy and satisfied customers! We have therefore developed a series of FREE training courses (Knowledge Days) for both Dynamics NAV and Dynamics 365 Business Central, which are designed to enhance your understanding and knowledge, so you get the most out of your system. Our training is available at our Newbury and Manchester offices. Learn more about the training we offer here.
Knowledge Sessions
Knowledge Sessions are recorded webinars delivered by topic specialists. They will take you through some of the trickier processes and decisions that you have to make about how you use your system; walking you through the options and advising on best practice so you don't have to do it all on your own! These videos are normally about 30-40 minutes long and range from areas such as 'How to set up workflows in Dynamics NAV' to 'Upgrading options and how to decide which is best for you'. Check them out here.
Knowledge Videos
We've put together an array of short and simple how-to video tutorials explaining and demonstrating standard functionality in Dynamics NAV and Dynamics 365 Business Central. Areas covered are:
Finance
Sales & Marketing
Inventory Management
Purchasing & Expenses
Reporting & BI
Watch them here.
On Demand Burst Training
We offer free 1/2 hour, on-request WebEx training on standard or add-on functionality to any of our existing customers. Just let us know what you'd like to learn about by contacting your Account Manager or emailing account.management@thenavpeople.co.uk.
Ask Anything Service
If you have any questions on Dynamics NAV or Dynamics 365 Business Central, we offer a free email service where ANYONE can ask ANYTHING about the best of ERP systems – we love it that much! Just email your question through to ask@thenavpeople.com and the 'ASK Team' will get back to you with an answer. Good or what?
Our Newsletter
Our regular newsletter provides another avenue for you to keep up-to-date with Dynamics NAV and Dynamics 365 Business Central news as well as how-to videos, notification of events and advice on common support issues. Sign-up here!
The Annual Dynamics NAV and Dynamics 365 Business Central User Day
We run an Annual Dynamics NAV and Dynamics 365 Business Central User Day which is an excellent opportunity for you to hear from us about all the new innovations we've developed for Dynamics NAV and Dynamics 365 Business Central, as well as hearing from Microsoft and meeting our Partners. It's the event of the year and no user of Dynamics NAV or Dynamics 365 Business Central should miss it! Keep an eye on our website for the details of the next User Day.
In Summary
We endeavour to continually improve our services, come up with new ways to support you and help you to get the very most out of your Dynamics NAV or Dynamics 365 Business Central solution. If you have any suggestions for new ways that we can do that we'd love to hear them – do get in touch!
If you would like further information on the services and solutions we provide, or alternatively if you would like advice on your current support agreement, please contact us:
David Walker - Director of Operations
Email: david.walker@thenavpeople.co.uk
Telephone: +44 (0) 208 328 9818
Support: support@thenavpeople.co.uk