If you are considering the possibility of upgrading, the time to move forward and turn the concept into reality has never been better. The benefits are the most significant they have ever been and there are multiple routes to achieve your goal.
As well as the many platform and functional advantages, many companies currently use a version of Navision or Dynamics NAV that is over a decade old (these include early RTC versions 2013, 2013R2 and 2015). They then find that it's out of Microsoft support, meaning Microsoft won't help with any issues. It also means the loss of security patches, a potential critical threat in this digital age. A large number of businesses are required by industry standards or by corporate governance to maintain up-to-date security across all areas of their business and therefore remain on a supported version.
Your upgrade to Dynamics 365 Business Central will see you settle on a platform that won't require the large upgrades of the past, but instead incremental, biannual upgrades from Microsoft which will keep you on the latest version while keeping your system and data safe and secure.
While upgrading may seem a daunting task requiring more time and money than some companies are willing to part with, there are options to suit all requirements. The important point to consider is the effort versus benefit. As you can see from the graph, the effort to upgrade remains steady regardless of which version of Dynamics NAV you are currently using. However, over time, the value to your business skyrockets as we approach the new world of Business Central and beyond.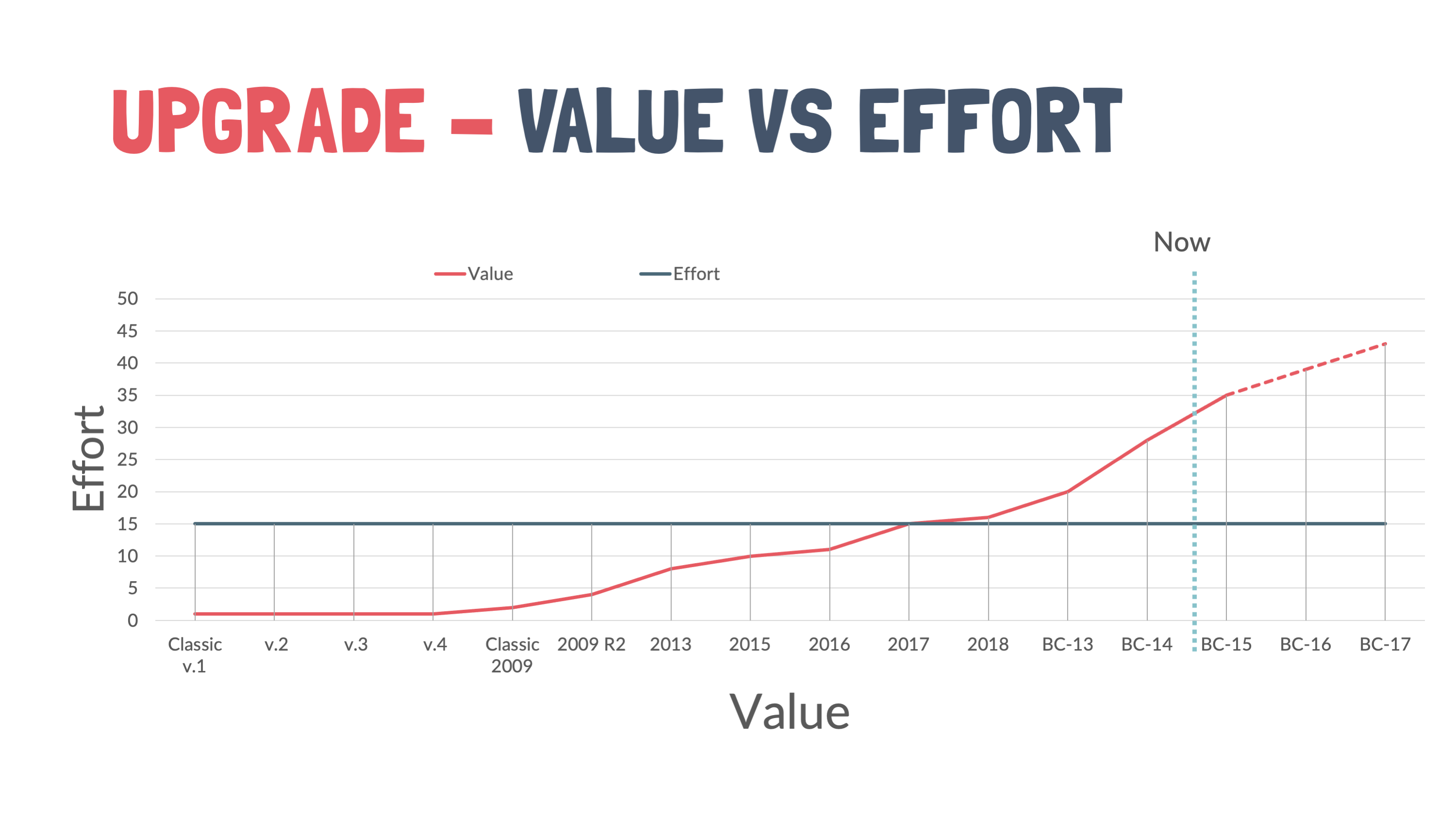 We truly believe that upgrading your old NAV solution to Business Central would add significant value to your business through new functionality, access to modern technologies and the ease of future upgrades. This is true in regard to the entire system but in particular, the following features will revolutionise the way you do business:
Access to new clients - remove the chain holding you to your desktop and unleash the web, mobile, Outlook and tablet clients for up-to-date information on all devices.
OData 4 - delivers better integration to tools like Power Apps and Power Automate, tools delivering the new world of low code applications that can be easily and cost efficiently created to improve user, business and IT productivity.
User features - with brand new features such as enhanced screen configuration, cross-column search, real time KPI headlines and Outlook integration enabling on the fly review of ERP data from inside Outlook, the latest version of Business Central really is too good to miss.
Extensibility - as well as the fantastic work Microsoft have put into updating and upgrading the standard Business Central solution across the board, in the new world of extensions and apps it's much easier to customise your solution without affecting the core code, enabling the business to define custom apps or explore the app store for an appropriate solution to your business challenges.
Integration - Business Central's interaction with Microsoft 365 is seamless; Power BI graphs appearing in role centres, direct communication with the Teams Planner, the ability to manipulate Excel data and update it - the possibilities are endless.
As incredible as these benefits are, your decision to move some or all of your older system will depend on your situation, cost and effort balanced with your businesses attitude toward risk and upgrade approach. For example, you want to keep your modifications and old data or you may want to start from a 'clean' version of Business Central solution. Regardless of your preference our upgrading tools are here to help.
We also offer a functional bridge which takes the strain out of completing an entire system upgrade in one go by taking a department or function within your business and moving only that section to Business Central, aiding your transition into the new world by breaking an upgrade up into manageable sections.
We will discuss the three options in more detail below.
Technical Upgrade (to BC14)
If your system falls into the versions between Dynamics NAV 2013 and the latest release, a technical upgrade is an easy solution that brings you all of the benefits of modern technologies while leaving your functionality and modifications as they are. You would then be able to access your system with the latest Web, Phone, Tablet and Outlook clients.
This can often be a low cost, low effort upgrade that provides a platform able to exploit partner extensions like our nHanced 365 apps and the ability to develop in the new world of extensions and AL. For a more detailed explanation of how a technical upgrade works, watch the video below.
A technical upgrade is ideal for companies who are looking for a 'quick win' and make some early gains prior to investing further in a more complete upgrade in the future. If you're happy with your modifications, data and functionality but want to make use of the latest technologies and clients available, then a technical upgrade could be the one for you.
Start from Modified and Start from Standard
There are two approaches to full upgrades: Start from Modified and Start from Standard. As the name suggests, a Start from Modified upgrade means we take your modified Dynamics NAV solution and convert all of the data and modifications into AL (the new development language for Business Central). One key thing to bear in mind is that this may result in the new functionality in Business Central rendering many of your converted extensions obsolete. A Start from Standard upgrade takes only the required data from your old solution into a standard Business Central solution, meaning you will use standard processes and the latest extensions from the huge market place available. You get an opportunity to revise your business processes and tune them to best practice with the standard functionality delivered in Dynamics 365 Business Central.
Both upgrades transform your Dynamics NAV solution into Dynamics 365 Business Central! The complexity of both kinds of upgrade mostly rely on the level of modification that has been done to your system. Watch our video below to learn more about the differences between a Start from Modified upgrade and a Start from Standard upgrade.
These upgrade types give you the full Business Central solution, with the deciding factor between the two being your desire to take all data and modifications or revise your current processes and data as part of the upgrade. However you want to tackle your upgrade, we are here to help.
Functional Bridge
A Functional Bridge is a term used when we deploy Dynamics 365 Business Central for only part of what you use today in Dynamics NAV. If you want to get some Business Central in your life some of the common areas to move first are Finance, eCommerce and CRM, but the possibilities mean you could deploy any part of your business onto the new platform. You can utilise this method to solve a particular business need or requirement without hauling your whole business into an entire upgrade right away. This is also the step to getting you, if you desire, to the Cloud, be that the Public Cloud or a Private Cloud. Azure is where you should be, and a Bridge is the way to get there. Watch our video below for a detailed explanation on how a Functional Bridge could be the solution for you.
Selco, one of our customers, have a very complex trade operation across nearly 70 UK stores and, having embarked on a much-needed upgrade from NAV 3.6 to Dynamics 365 Business Central in early 2019, mitigating operational risk during the various phases was paramount to their business. Sid Desai, Interim Programme Manager says: "The NAV | 365 People's data bridge is the foundation to our upgrade strategy, parallel running both old and new systems, whilst transitioning features and functions in a number of phases over to Dynamics 365 Business Central has provided the business with the security and confidence it required."
When considering an upgrade, look at the new version, decide what benefits it could bring and if the benefits outweigh the cost and effort, then move forward. Choose the manner in which you want to approach your upgrade and let us help you on your way to Business Central. Otherwise, don't worry, we will support you forever on whatever version you have.
WHICH UPGRADE ROUTE SUITS YOU?

TECHNICAL

START FROM MODIFIED

START FROM STANDARD

FUNCTIONAL BRIDGE

Companies who are happy with their modifications and data but would like to use the latest technology and in particular the Web, Phone and Tablet clients whilst maintaining their functionality
Companies who do not want to look at their processes
Companies with a very old solution, where many of the modifications are no longer used or required. The data has built up with lots of useless and unused information clogging up reporting and user screens
Companies who want to utilise the modern functionality in specific department, such as giving your Finance team the brand new bank integration features, improved reporting and improved bank reconciliation in Business Central
Companies who are on a 'relatively' new version of Dynamics NAV
Companies who have a lot of modifications and believe they are all still required in the new system
Companies who want to start afresh
Companies who want to solve a particular problem e.g. getting a web shop up and running
Companies looking for quick wins
Companies who want all their old data brought across to the new one
Companies who aren't ready to upgrade their entire solution right away
Companies who want to make some gains prior to investing further in a complete Start from Modified upgrade
Companies who want to make the step to using the Cloud, whether that is the Public or Private Cloud
Book a free upgrading consultation with one of our experts and understand how upgrading to Business Central could work for you.
For more information on upgrading, visit our webpage here.
To see how Van Hage utilised a functional bridge when implementing a new eCommerce solution with our video case study, click here.