In May 2023, we were delighted to send some of our wonderful retail team to LS Retail's annual conference, ConneXion in Athens. We look forward to it every year and it's always a great opportunity to spend some time with the LS team in person, see what's new, and meet some familiar faces.
Similar to our annual User Day event, there is a morning keynote followed by various breakout sessions in the afternoon.
We heard and saw so much during the conference, but here are some initial thoughts:


Business Central Online – Are Retailers ready for online only?
For those that don't know or are on different versions of Dynamics NAV or Dynamics 365 Business Central, Microsoft now offer 'Business Central Online', which is their software-as-a-service version. This means you don't need a Partner to host it on your behalf or your own infrastructure – it's hosted securely by Microsoft. According to LS Retail, 50% of their new customers are SaaS/Online customers.
What's interesting is that, in our LS Retail world, we've mostly implemented the stores with Data Director. This meant the stores could trade offline and then push to Head Office as and when, so the POS always runs even if there's an outage.
We're seeing a lot of Retailers still wanting a hybrid approach and this gives you the benefit of both - Head Office can be hosted as a SaaS solution by Microsoft and then the stores continue to trade offline. Although that's what we expect most people to do for the foreseeable future, interestingly LS say that they see more and more customers are opting to run online only – running the POS truly as a SaaS solution with no offline mode.
The main takeaway so far is that we can still host the Head Office database as a SaaS solution and get all the benefits from that. There are a lot of benefits to this as opposed to hosting Head Office as a Managed Service, and then run the stores offline with that resiliency.


Upgrades and Evergreen
We observed that LS Retail dedicated a lot of time to discussing 'staying on the Evergreen train' and remaining on the latest software version. As we've been hearing from Microsoft, we don't want customers left on different versions of Business Central with no easy upgrade paths. We know that with Business Central, Microsoft have made the ERP much easier to upgrade and initiatives like 'Universal Code Compliance' mean that we have to develop our code, add-ons and solutions in a way which won't impact upgrades later on.
Every business using Business Central should start to think about the mental switch to 'updates' rather than 'upgrades'. If we build a process and habit for regression testing and taking on an update once a year, then you can stay on the latest version and benefit from the latest changes and new features.
Microsoft are releasing a major update every 6 months, minor update every month and LS are doing weekly releases.
For customers who choose to host the Head Office database through Microsoft as a SaaS solution, there won't be a choice, they will be updated automatically. For customers not using SaaS, we can still update it with the same frequency - the only change is that Microsoft aren't doing it automatically for us.
Overall it'll be really interesting to see this play out. We know for our Business Central Online/SaaS customers, they will be updated automatically and therefore we want to make sure our 'non-online' customers take advantage of this too, even if it's once a year as opposed to every 6 months.
LS – Not just an EPOS
Although the vast majority of our customers mainly use the POS in LS Central, LS Retail have many other solutions available. For example, LS have built 'Kiosk' and 'Self Check Out'. If you imagine kiosks you often see in a service station along the motorway, rather than having people queuing for a cashier at a POS, they can walk straight up to a POS and create their own order. Now with LS, we can do all of that out of the box.
The same goes with Self Check Out. LS have built interfaces to this which they've implemented in grocery stores and newsagents, and we all know how popular they have become.
There is also a solution called 'QR Code ordering'. We've all done this over the past few years and know how great it works in some environments. With LS, you can scan a QR code and it'll take you to a website (by default, this is Magento) where you can place your order and then it'll be sent to the kitchen or to the POS.
The traditional EPOS is not going anywhere but, for customers that also want Kiosks, a Mobile POS, Self Check Out, etc., LS have definitely spent a lot of time over the past few years creating these as options. This means that, as retail continues to change and expand depending on the environment, you can extend out of your traditional EPOS.

Other cool stuff
I think one of my favourite things unfortunately had nothing to do with Retail and was during one of Microsoft's sessions – 'actionable error messages'. When we get an error message, rather than pressing 'OK' to clear the error, we're now able to add another button to actually fix it. For example reopening the document, such a game changer!

Diamond Partner – we did it again!
A nice little bonus for the week was that TNP achieved Diamond Partner status again, which is the highest level of LS Partner and something we've had for a good few years now. It was lovely for everyone to get that recognition and huge shout out to the team!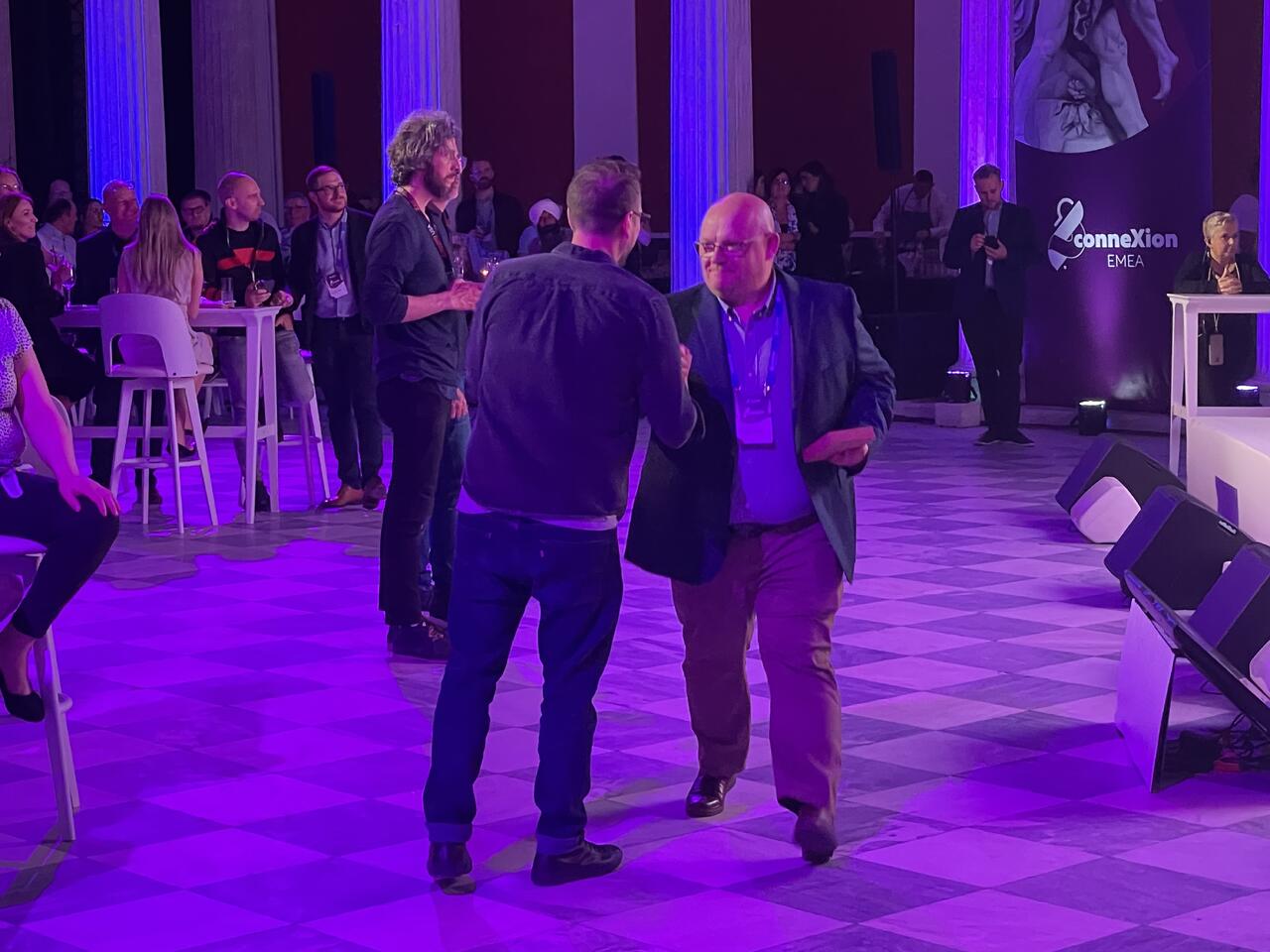 I think my favourite thing from the whole week was this photo that one of the LS team took of Graham and Tom shaking hands after Graham picked up the award. Proud father and son moment or what 😃
TNP have a team of over 40 dedicated Retail experts, ready to help you move forward with your business plans, whether this is implementing a new ERP, modernising your customer experiences, moving your ERP support to us, or much more. We're ready and able to assist you with whatever you might need.